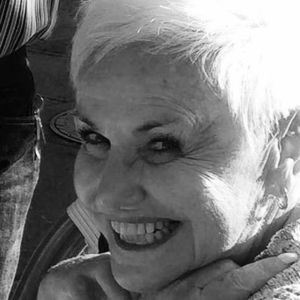 Jeanne B. Chamigo in Haiti with
H3Missions, Inc.
Mrs. Jeanne B. (Barletta) Charnigo, 71 of Salem, beloved wife of the late Michael N. Charnigo passed away peacefully on Tuesday, July 30, 2019 at the Kaplan Family Hospice House in Danvers.
She loved to travel and even when traveling found the time to put together a party to celebrate with her many friends. She also traveled to Haiti with H3Missions, Inc. partners with the Haitian Ministry to bring much needed medical services to the Haitian people.
At Jeanne's request, Memorial gifts may be made in Jeanne's memory to H3Missions Inc.
To see her full Obituary, please click here.
This page celebrates and helps us remember our dear friend Jeanne Barletta Charnigo. Jeanne loved life and Jeanne loved Haiti, particularly the children of Haiti. Nothing made Jeanne smile more than to receive a big hug from the kids who ran up to her, as we walked into an orphanage in Haiti. Jeanne passed away this July 2019 after a valiant battle with cancer.
Jeanne made several trips to Haiti as a member of the indefatigable "sterilization dream team" consisting of Jeanne, Susan Rodman and Debra Landoni, all New Englanders. They formed the backbone for our dental team led by the man, the myth, the legend – Dr. Daniel Duroseau from Missouri. Daniel knew that he could count on them to keep up with him and the rest of the dental team, regardless of whether or not we had electricity or had to sterilize instruments over a fire. After sweating in the oppressive heat of the Haitian summer, Jeanne used to love to visit kids in the orphanage, and was constantly buying gifts for them or just giving them love.
As you view these various pictures of Jeanne doing what she loved to do in Haiti, please know that we are missing our friend deeply. The world has lost a special person and Haiti has lost someone who loved it and its people. Rest in peace JBC.
From Daniel Duroseau 
Often times life surprises you by allowing you to have encounters with individuals that leave a lasting impression on you. Jeanne was that individual. Her smile said it all. Her jovial character and demeanor was icing on the cake. Our trip to Haiti was one to be remembered cause you made it special and memorable. Matthew 10:28 tells us," And fear not them which kill the body, but are not able to kill the soul: …" the enemy may do what he wants to this body but know this, he is a defeated foe. We will have the last laugh. Until then, Rest in peace my friend look forward to seeing you again that resurrection morning! 
From Susan Sheppard Rodman: 
Jeanne was one of a kind. When we both went to Haiti the first time I was nervous but Nyron suggested that I call Jeanne. She was so funny and ready for an adventure. I stopped worrying because I knew I had a buddy for the adventure that was Haiti. In Haiti or here in Massachusetts she had such a bright outlook and zest for whatever each day would bring. She liked to have fun! She cared deeply for Haiti and especially for the children she met there. She also cared deeply for her group of friends – they were everything to her. She was the biggest flirt I ever met. Out at a restaurant she would shamelessly flirt with a cute waiter- mostly in hopes of extra wine… it usually worked. She was such a wonderful character- never to be forgotten!